SeaPad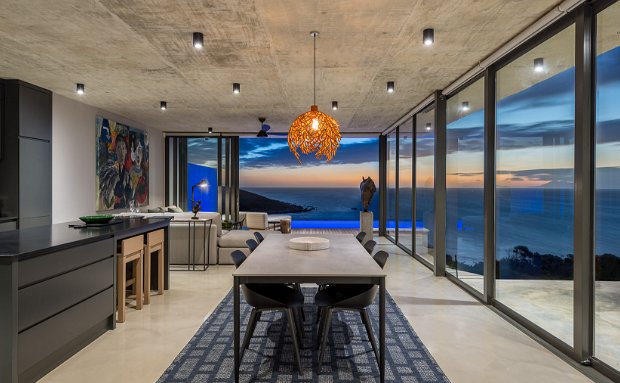 SeaPad is currently the flagship in the Romansbaai Collection.
NOTE: 24 AUGUST 2023
Please take note, the neigbours to Seapad have started the build of their home. So although no effect over weekends, during the week there will be some construction activities next door.
SeaPad was designed as a collaboration project between KTA Architects and Hildi & Co Interiors to create a minimalistic world-class abode set on one of the best beachfront stands in Romansbaai Beach Estate. This is a mere 150m from the beach path.
The finishes reflect strict adherence to stylish minimalism, screeded floors throughout, off shutter ceilings, floor to ceiling glass, designer cabinetry, remote operated blinds and shutters where essential. The interior touches reflect style and quality.

LAYOUT
Seapad is set on two levels with the entrance and private en-suite guestroom with own balcony and patio on the entry level. A staircase links this with the ground floor level which hosts the main bedroom screened from the common areas, where an open plan kitchen, dining and lounge areas have 180-degree permanent sea and beach views. Big sliding doors open up to the pool and patio.
SLEEPING ARRANGEMENTS
SeaPad has two en-suite bedrooms with Kingsize beds and sleeps 4